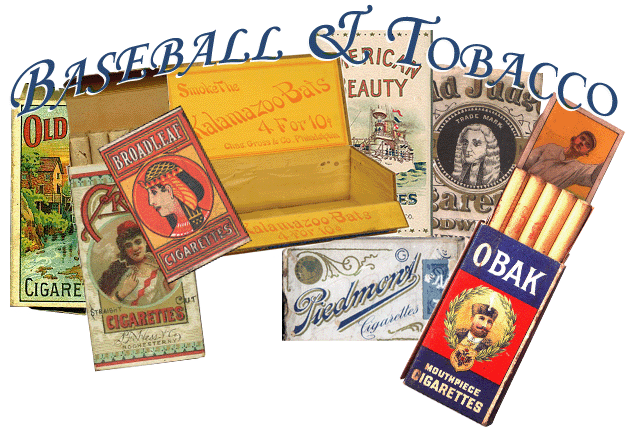 1914 PIEDMONT ART STAMPS T330-2
Home | Research Center | Cigarettes Boxes & Tobacco Packs | For Sale | Links | Contact

In 1914, the American Tobacco Company produced its final baseball set to be issued within packs of Piedmont Cigarettes. This final set was the T330-2 Art Stamps series. These stamps were based on the popular T205 series of 1911. A total of 106 stamps are in the set. An advertisement on the back of the stamp states that by sending in a coupon, one could obtain an album for these stamps. These stamps are easy to come by, but are hard to find in great condition. Besides being printed on extremely brittle stamp-like paper, many of the stamps were affixed to scrap books and albums.

Like with previous Piedmont issues, the Art Stamps were packaged inside 10-count slide and shell boxes of Piedmont Cigarettes. However, collector's should note that Piedmont cigarette boxes that once contained T330-2s will say "Liggett & Myers Tobacco Co." at the bottom and not "The American Tobacco Co.". The latter ceased to be printed on the outside of Piedmont packs in 1911 after the trust dissolution. Piedmont boxes are fairly easy to locate and do not command high prices.


Approximate value of a 1914-era Piedmont Cigarettes pack would be $125.00.
BACK TO CIGARETTE BOXES & TOBACCO PACKS